Hey Bloggy Friends,
The holiday shopping season is officially upon us! The sales are ON! TpT is no exception! Check out this fabulous Linky Party for some TpT bargains! Your favorite sellers are marking down their quality educational resources for 2 days only, November 26 and 27! So start loading up those carts for this huge event! Remember to enter the CODE: CMT12 at checkout.
Here are some of my products that will be on sale Monday and Tuesday!
Use this pack to create a winter themed showcase of reading response work. This pack focuses on the skills of summarizing and understanding genres.
One of my newest products includes 10 activities to use when studying the regions of the United States. Students will need to read informational text and practice their research skills in order to complete these activities.
Creative thinking will be enhanced when students try their hand at my Brain Boosters. These are perfect for morning work, early finishers, substitute plans, or just for fun!
Download this
FREE
Winter Brain Booster and give it a try!
If you would like to join the linky party, visit Michelle, grab the button, and link up!!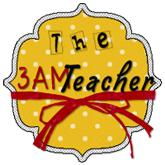 Happy Shopping!
P. S. I'm very hopeful that I will reach 100 followers in the VERY near future...check back next week for my 100 Follower Giveaway!